This isn't really a WIP as the costume has been cleared since 2015, but I'm upgrading a few bits so thought I might as well give some background.
Though cleared in 2015 I didn't troop it for about a year as I was never happy with the original vest. I made a new and more-accurate one a year later which was approved by the then CO of RAID, but it never found its way into my costume profile. Since I've now got the full Endor helmet from my Luke costume, I thought I might as well do a fresh set of clearance pics and submit as a "Mark II" version.
Off-the peg items:
MonCal flightsuit
Black German WWII jackboots
Kit-built donut from TK560
Kit-built headset from Chef
Chest rank badge courtesy of another RL member
Tan work gloves
2 x olive drab pouches
Scratch-made:
Gaiters
Rectangular tan fabric, reinforced with iron-on interfacing. They fasten at the front with a strip of velcro. Black parachute clip fixed to inside leg edge of each one with a small loop of silver webbing. The gaiter straps are 1-inch silver webbing which fasten around with velcro.
Vest
Tan cotton twill, pretty much just made by eye. I used a bodywarmer which was about the right size to create a basic pattern for front and back. Once this was made the size of the sleeves and pockets pretty much determined themselves! Sorry no pics, I just put this together in an afternoon a couple of years ago without really thinking. There's this one from before I added the pockets but that's about it . . .
You have to ensure the sleeves are capped sleeves (i.e: they just cover the shoulders and do not follow the circumference of the armhole all the way down). The size of the slash pockets has been a cause of debate, but it seems there can be some variance between troopers, with some examples reaching almost all the way up to the yoke.
Only the right shoulder is quilted, with a series of vertical lines of stitching across its surface. The right shoulder has the same sized panel, but is not quilted.
Soft cap and building the donut
You can read about the creation of these items in my Endor Luke WIP which can be found
here
.
I've since shortened the peak of the donut as I thought it was a bit too long.
Belt and pouches
Simple 2-inch olive webbing with a black British Army rollpin. I have 4 of these style belts now!
Pouches are not distinct in the references, so basically any kind of small to medium sized olive drab military pouch should be ok, minimum of 2 either side of belt.
Shoulder rank badge
This was scratch built from circuit boards and various scraps. It's a variation on the badge worn by Leia in the briefing room and various other scenes. Movie refs are indistinct, so there's a bit of improvisation here. The right-most badge in this pic is worn on the chest and is made by another RL member.
Background
This costume may be unfamiliar to some of you, as its screen time in
Return of the Jedi
is significantly reduced compared to how much footage was filmed. Basically, these are the guys who crew the
Falcon
when it leads the Rebel Fleet against the second Death Star with Lando and Nien Nunb at the controls.
You can briefly gilmpse Colonel Airen Cracken and one or two of the other guys behind Lando in the cockpit, but that's pretty much the limit of their appearances. Thanks to the Blu-Ray edition of
RotJ
and its deleted scenes, we can now see that a ton of footage was shot of these guys running around the
Falcon
corridors during the battle carrying weapons and equipment, putting out fires etc.
Most interesting of all is that scenes were shot of Cracken and Lt Blount manning the
Falcon
's gunnery stations just as Luke and Han did in
Star Wars
. Although almost all of their scenes were cut, it remains an interesting and unusual costume variation.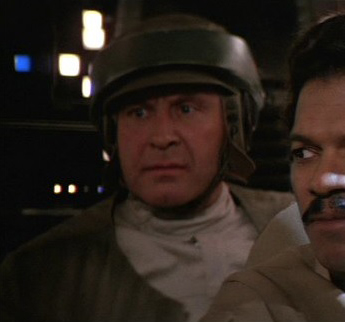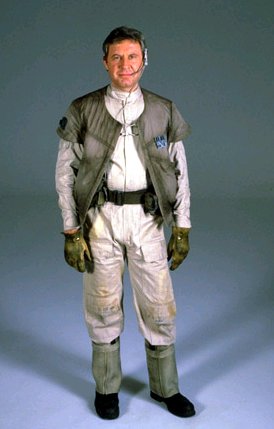 As with many costumes, it consists of a variety of components recycled from other outfits. The flightsuit is the same tan suit worn by Yavin Techs in the original movie, and later by many Echo Base personnel in
The Empire Strikes Back
. The colouration of the flightsuit varies depending on source, but as usual this is down to lighting and post-production issues. In some references Cracken is wearing a different base suit, which is actually a button-down collar tan shirt, and a pair of tan combat trousers. However, the jumpsuit version is the most frequently seen.
Gaiters are reused from the other
RotJ
pilots such as Y-Wing and B-Wing pilots. The vest is the tan Endor Commando version with quilted right shoulder. The helmet is a regular Endor donut with soft cap, and the headset is the same Racal Minilite set worn by Luke and Han when they man the
Falcon's
guns, as well as numerous other characters throughout the OT. A 2-inch olive drab belt with minimum 2 olive pouches completes the outfit.
Although they're not specifically seen carrying individual sidearms, a weapon appropriate to other Endor troopers seems generally acceptable, so I've trooped this variously with a DH17, E11, or AR280.